Denver International Airport has just installed a brand new animatronic talking gargoyle statue that is making fun of the "conspiracy theories" about the airport. As you can see in this video, the animatronic statue is incredibly lifelike, and it must have cost a fortune to create. The airport claims that the goal is to get more people to travel through Denver, but the truth is that when you are booking a flight there really isn't much choice. Denver is one of the main national hubs for air traffic, and I have personally changed plans there countless times. Nobody is going to add extra time to their flight plans just to go through Denver if they don't need to do so. In the end, this sort of a promotion is very funny, but it isn't going to change consumer behavior. So is there something else going on? Could it be possible that they are attempting to use humor to mask what is really going on at the airport?
Needless to say, a lot of travelers are absolutely stunned when this gargoyle statue suddenly comes to life and starts chatting with them. The following comes from Fox News…
On Thursday, reps for DEN unveiled the chatty creature, perched in the main terminal, in honor of the airport's 24th year in operation, the Atlanta Journal-Constitution reports. The airport shared video footage of the eloquent gargoyle surprising passersby to YouTube, where it has since gone viral with over 70,000 views.

"Welcome to the Illuminati Headquarters, I mean, Denver International Airport!" the gargoyle exclaims, shocking travelers.

"You know, you can actually put the phone down and have a conversation with me," the creature – which claims to be 243 years old – chides a "millennial" on their cell phone.
The video now has well over 200,000 views and if you have not seen it yet you can find it right here.
As funny as that talking gargoyle is, let us not forget that there are some legitimate mysteries surrounding this airport. The following comes from an article
by Stefan Stanford
…
While the entire island of Manhattan, one of the most densely populated cities in the country and home to more than 1.6 million people, sits on 22.82 square miles of land, the Denver International Airport itself is more than twice the size of Manhattan island at 54.05 square miles. In fact, as the Denver Channel reports, the DIA is also bigger than the cities of San Francisco and Miami as well. All that size just for an airport?

Easily the largest airport in America and by far, dwarfing its nearest competition at Chicago's O'Hare, Atlanta's Hartsfield and New York's JFK by some 25,000 acres, DIA has also long been in the public's eye as potentially being much more than just an airport.

Containing swastika shaped runways, apocalyptic, end-of-the-world artwork throughout the airport, infamous construction problems which delayed the opening of the airport for years, gargoyles sitting within suitcases on the walls and the demonic blue horse that sits outside of the airport nicknamed 'Blucifer' due to its haunting red eye, that 'piece of art' actually fell upon and killed the artist who was creating it being just a few of the very incredibly strange things and events surrounding this airport.

And as this October of 2016 story over at the Denver Post reports, due to the mysterious time capsule 'capstone' that sits at the airport which references a "New World Airport Commission", something that doesn't even exist, the mystery surrounding the airport continues to grow.
And on top of everything else, now they have given us a talking gargoyle.
I don't know if we'll ever get the full truth about Denver International Airport, but there are legitimate questions that need to be answered, and right now all they are giving us is humorous distractions.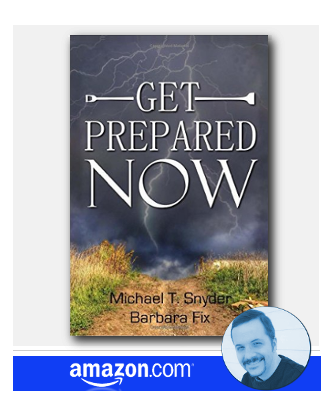 About the author: Michael Snyder is a nationally-syndicated writer, media personality and political activist. He is the author of four books including Get Prepared Now, The Beginning Of The End and Living A Life That Really Matters. His articles are originally published on The Economic Collapse Blog, End Of The American Dream and The Most Important News. From there, his articles are republished on dozens of other prominent websites. If you would like to republish his articles, please feel free to do so. The more people that see this information the better, and we need to wake more people up while there is still time.